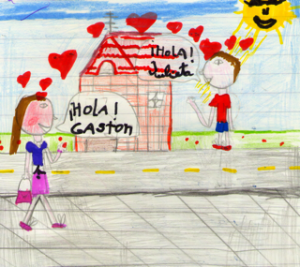 I drove my father to the coast, to spend the summer in our Pine Tree Paradise in Pinamar, Argentina.
My father is visiting from Los Angeles, 92 years old and with time on his hands to spend in his homeland of Argentina.
He's not letting time slip by. He's been reading though my library, hanging out in the cafes, chatting with friends and exercising. He talks with my three children and watches them play. All of this may be slow going for him at his age, but he is steady.
We all sit down at dinnertime and talk, but it doesn't happen all the time. There's been a lot to do: work, the children, and the end-of-year activities. The days go by and then we go to bed without much of a word.
My dad likes conversation. A cousin of ours asked how she could help. I thought of all the medical treatment, the nurses, the doctors' visits, the supplies to stock up on. I thought for a moment more and then said, "Conversation."
But it's not always easy to stop and talk, to sit down and have a conversation. Even my father says his father wasn't much of a conversationalist at home, busy with this and that in the raising of a family of four children and his work as an engineer in Buenos Aires. Really, my father told me, it wasn't until road trips that his father would open up and talk. My father told me this as we drove through Chascomus, remembering fondly his trips with his father to the Argentine coast in the 1930s, 40s and 50s, when Carilo and Pinamar were yet to exist as the large resorts they are now, then but a few houses, a hotel maybe and small trees in a large expanse of sand dunes. My father knew families that owned the land and his father would drive them there, but they would spend the summer in Mar del Plata, a city an hour and a half down the coast.
But it was the drives that my father said that he loved as much as anything. They would stop for lunch in Chascomus, where they'd order fresh-caught fish at a small restaurant by the lake and then sit, eat and talk.
His father would open up and tell him stories of his own childhood in Buenos Aires and trips with his father, an American immigrant who lived in a large house, big enough for his 12 children and the American cowboys who came to help him run a ranch in the interior of the country. The cowboys would sleep in tents at the foot of the garden before riding south.
So my father and I pulled over for lunch in Chascomus and he told me of the day he started building a pool at his father's house in Tigre, of cutting down eucalyptus trees at a friend's farm, of meeting Victoria Ocampo, Borges and other writers, still little known then, and of living in Mexico and New York, and of meeting my mother in St. Louis, and of taking his three sons – my brothers and me – on a five-day hike in the Sequoias.
After lunch we got back in the car and the conversation continued as we drove along the long highway through the Pampas and toward the beach with nothing to do but to drive and talk. So that's what we did.