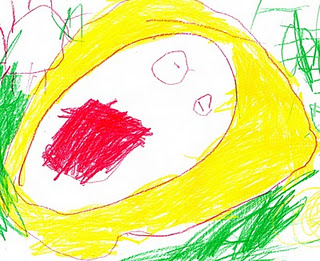 My wife took the two eldest kids out to the movies, leaving me with the rascal. That's the youngest. She's two. She's cute. And she's cheeky. Smile at her and she'll smile back broadly and then stick her tongue out at you. A Pippi Longstocking in the making, unconventional and assertive. A right pain in the bum.
So I took her out to dinner.
We went to El Sanjuanino down the street. In the door, past the full tables and down the stairs. A table for two at a favorite joint for empanadas. It was still early so we had the downstairs all to ourselves.
The waiter brought me a beer and her a Fanta. I took a sip.
"You like?" the rascal asked.
"I sure do."
She took a sip.
"Do you like it?" I asked
"I really like."
Two beef empanadas arrived for her and a tamale for me. I took a bite.
"You like?" the rascal asked.
"I sure do."
She took a bite.
"Do you like yours?"
"I really like."
We finished our dinner and dessert was tempting, but I thought I'd best not test my luck with the rascal. So I paid the bill and we walked upstairs and across the crowded floor. She smiled at people admiring her, the adorable little girl. She kept her tongue in.
We walked home and went up the elevator and climbed into our pajamas. It was Friday so we turned on the TV to chill out, me thinking she'll be asleep in no time and then I can have a much deserved early night. Easy peasy.
"Why do we call you the rascal anyway?" I asked her as she lay on the bed next to me.
She kept watching TV.
An hour went by and I was drowsy and nodding.
And the rascal?
She was jumping up and down on the bed.
"Go to sleep!" I said.
She stopped bouncing and looked at my drooping eyes and tired face and said, "Night, night, daddy."
Then she resumed her bouncing…