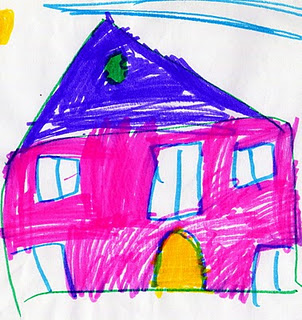 We're packing for the move to a new place. It's in Colegiales, up town from where we are in Buenos Aires.
The mover came by to size up our stuff. He needs to calculate the number of baskets, boxes and crates to provide and the capacity of the truck to bring along. "Wow," he said. "You've got a lot of stuff." And I thought this would be one of our lightest moves. We've been downsizing to live more frugally, to live with less, to lead a simple life. Yet with three kids under the age of seven it looks like we've been keeping Disney and a dozen toymakers and book publishers in business.
Even so, we've let some things slide. Check out our kitchen cupboard. Yeah, in a few short years it has become like the cupboards of most families: full of mismatching mugs. It wasn't meant to be this way, really. We bought a nice set of six coffee mugs a number of years ago. Mugs that are perfect for hot cups of coffee and tea. They lasted months and then years. But over time one broke and then another and another. We are now down to just one. And the task of buying a new set always gets shifted down the to-do list and down the monthly budget behind more urgent items like buying clothes for the kids and paying school tuition.
There are still enough mugs to drink our coffee and now for the kids to drink milky tea. These are mugs we bought during outings to the supermarket. The kids would sure love that mug with Pucca on it. And that one with Ben 10. So they entered the cupboard along with the Christmas mugs and those picked up at corporate parties and sporting events. And sure enough we now have a growing collection of mismatching mugs as our family grows.
And Dad has a favorite. Mum, too.
The kids know that.
"No, not that one. That's Dad's," the eldest says to her brother as he roots around in the cupboard for a mug for his milk.
I think how would you know? Weren't you born yesterday?
But it's true. I do have a favorite mug. It's a loner mug. It has no pair. But I don't care. It holds the heat and it's not chipped.
Yet.