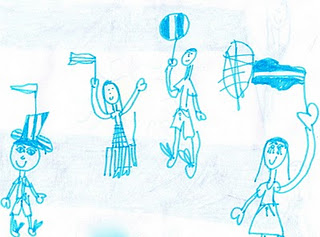 As a kid I once heard about a surfer who hung up his surfboard and called it quits after surfing a spot so good that he didn't think he'd ever get it any better.
He hung up his board and called it quits.
At first I thought, wow, it must have been good. But as I grew as a surfer the idea of quitting just like that came to sound ridiculous. When you get good surf, you want more. You pine for it. You get feverish about the thought of another good session. You even skip school, work and any other obligations. You go to bed early because you want the morning to arrive faster. You race to the beach and out into the waves. The adrenaline takes hold of you. You want more.
In a way, that was what it was like watching Argentina in this World Cup. They played well. They attacked. They amazed with passes that snaked through the middle of a wall of defenders. How did Lionel Messi do that? What a goal by Carlos Tevez! They had hunger, grace and magic. They were a joy to watch. I wanted to watch. I got feverish ahead matches and so did my wife and my eldest daughter.
Diego Maradona helped put it all together, an ace player who as coach of the national team for the first time breathed a bit of his magic into the players. They played well even against a faster and stronger Germany that wound up thrashing them 4 to 0.
It was hard to watch the loss after four matches that showed football can be a beautiful game, that showed that Argentina can play beautifully.
I still want more.
So keep it coming Maradona. You brought me joy and passion for your team. And my eldest daughter loved it and lived it, wearing her Argentina shorts and blue-and-white jersey often and proudly, with Tevez stamped on the back, her favorite player. She got so into it that ahead of the Germany match she asked me to make pancakes in the shape of Argentina's football emblem. I did my best.
And after the loss, she asked if that was it. We told her yes. And she went into her room on her own. Argentina was out. Her team had fallen. Minutes passed and then from behind the closed door we heard her crooning the Argentine national anthem as sung by the players before each match.
Yes, we want more.