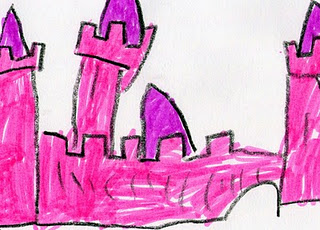 Well, I did it. Thirty-one days, thirty-one posts. I hope you enjoyed them, had a chuckle or a moment of, "Hey, that's happened to me."
I had a good time and I will continue to post, though at a slower pace. The daily blogging coupled with my day job as a reporter meant lots of hours of writing, and the workload took me into the night only to emerge from my office with a week of stubble and bags under my eyes to scare my wife as she was nodding off. "Oh, I forgot about you," she said.
So a bit slower.
I'm thinking every Monday and Thursday, reaching you those days or a bit later maybe if you get it by email or by re-email by my dad, a loyal reader who can have trouble with his computer every now again that has him calling one of his children to come by and help him fix it.
If you like what you read on Pine Tree Paradise, please spread the word.
And buy the book.
Well, eventually…
Hey, it may run in the genes, this dreaming large. My seven-year-old daughter is plotting her week as we walk home from school. On top of school (she goes in the afternoons) and her three mornings a week at art school, she's thinking of taking up ballet again. "And, oh, theater," she tells me. "And horse riding."
She continues.
I think I'm going to get a good nights sleep – or two – before any new projects…