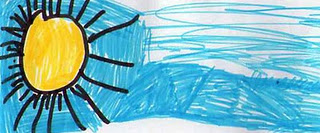 The 
World Cup
is around the corner and we are still debating who to support. If you live in Argentina, it's not easy to support any side but Argentina.
I know.
This will be my fifth World Cup in Argentina. In the first, I rushed out with cousins to cheer Argentina after it beat Nigeria. We gathered with hundreds around the Obelisk, a main monument on a main avenue in Buenos Aires. I was infected, an instant fan. We jumped up and down and shouted "AR-GEN-TINA!"
The thrill. It caught me. It converted me. I was now a big and keen supporter, rooting on favorite local sides and players, getting to know the grounds and the teams. Reading up on the latest in football, catching games and cheering, rooting and loving it. I'd become a football fan, with Argentina now my favorite, something not too difficult for a man from America, where football hasn't made it beyond the AYSO masses to generate much fervor.
I was in Argentina, and Argentina was in me.
"AR-GEN-TINA!"
Then I met my wife.
She's beautiful, she's inspiring and she's English.
So I became a die-hard England supporter, and in the next World Cup I cheered on England. And they had to play Argentina. Shit. How can you root on your new side in a country that could very well turn on you and leave you in crutches for wrongful support? Go Argentina! Go England! I silently cheered on my wife's side and
the magical goal by Michael Owen
only to watch my wife's team lose to my former heroes. My wife called downtrodden – and almost trodden. She had walked home across half the city as the streets flooded with Argentines cheering the win and singing, "He who doesn't jump is an Englishman." My wife refused to jump despite the risk of detection. She hurried home, almost in tears as the streets came alive with the chants of
"AR-GEN-TINA!"
The next World Cup brought another showdown – and a payback for my wife. England beat Argentina, and the streets of Buenos Aires fell silent. Nobody jumped. Except, of course, my wife. Silently. We chuckled a bit the next morning when listening to the radio as a DJ unwittingly – or with a death wish – spun a tribute to England. He played Queen's
"We Are the Champions."
I don't think anybody noticed except us.
This year? With three Argentine kids, us parents are outnumbered. Argentina three, England one, America one. I can switch back and forth, in a way, because my father's Argentine and my mother's English.
My children can too.
So which will they choose?
A few weeks ago, my seven-year-old daughter came home convinced on supporting England. The reason? It'd keep Roberto from trying to kiss her. My five-year-old son is going for our former hometown – Pinamar, where we lived for two glorious years. The place he still calls home despite our new life in the big city.
No matter, the outside pressure is building as kids and grownups talk about the coming games, the thrill and the excitement and the hot chances of Argentina. They'll do it this time, if you like Diego Maradona or not. They've got Lionel Messi and Carlos Tevez. Unbeatable. The kids are taking it all in and they talking about it and waiting for the opening game because inside they know who they are going to support no matter what, even the two-year-old has learned what to chant in this land where her parents are immigrants.
"AR-GEN-TINA!"