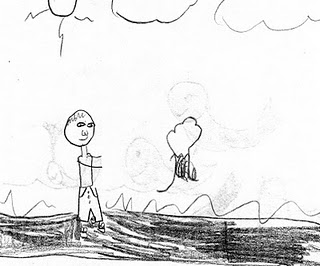 My son is very literal. It comes with his autism.
A few weeks ago when we were on the coast, he brought a bunch of stones into the house. They are stones from the path that runs round the side of the house. He played with them and then left them on the floor. I said, "Hey, throw these stones outside."
He collected them, walked to the backdoor, opened it and threw them outside and onto the patio.
That was outside, very literally.
Next time, I told myself, be more specific about throwing the stones on the path round the side of the house.
No matter, that's what my five-year-old son is like. Exact and literal. He's my own Amelia Bedelia, if you've ever heard of the protagonist from the series of children's books. Amelia was once left instructions to draw the curtains. So she got a piece of paper and a pen and, well, drew the curtains.
It can be helpful to be so literal.
My son came up to my wife with his skateboard when we were in the city apartment and told her he wanted to go to Pinamar, to our house on the coast. My wife looked at him and asked if he wanted to take his skateboard to Pinamar.
He looked at her as if she'd grown two heads.
"Nooooo…" he said. "We go driving to Pinamar, not on my skateboard."
It makes sense.
He does miss the house on the coast. The forest, the garden and the open spaces for running around. It beats a crowded apartment in a busy city.
"Hey," he said. "I've got an idea. Why don't we bring the house here and take the apartment to Pinamar."
It's a thought – and for him a real possibility, literally.